Watch Pacquiao vs Diaz LIVE Free
Jun 10
Thanks to SOPCAST (www.sopcast.com) and the internet (of course), we can watch Pacquiao's match live against David Diaz dubbed as "Lethal Combination". The World Lightweight Championship set to happen June 28 at the Mandalay Bay Hotel and Casino Events Center in Las Vegas, Nevada.
To watch…
1) Get the latest sopcast client/player http://download.sopcast.cn/download/SopCast.zip
2) Sign in or login as anonymous
3) Search for CCTV or HBO PPV channel
4) ENJOY!
Don't worry, I will post specific sopcast channel/address (ie. sop://broker1.sopcast.com:3912/35999) few days before the match.
And just in case your internet goes down,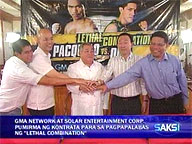 GMA 7 and Solar Entertainment has teamed up to air the match – but expect the delay for an hour or two. And the fact that you'll be indulging yourself with those annoying advertisement that repeats more than twice and eats more airtime than the actual fight.
.
.
Live Streaming Channel Update:
1)  sop://broker1.sopcast.com:3912/35999 (Sopcast)
2) http://www.myp2p.eu/broadcast.php?matchid=14025∂=sports (Web)
3) http://www.fighthype.com/sopcastpopup.php?chid=3&PHPSESSID=501966b7fc0df61a16615b2eb04d1225 (web)